Discover care
Addressing hearing loss is important. But with so many ways to shop, purchase and receive hearing care, how do you know which option is best for you? Our online hearing test is a good place to start. It could help you better understand the difficulty you have hearing different sounds. In less than 5 minutes, you'll be able to see the care path that best fits your needs and get started on your journey to better hearing with EPIC Hearing Healthcare.
Virtual hearing care
Our convenient virtual care program makes it possible to enjoy real-time hearing aid adjustments and support right from the comfort of your home.
Virtual care is a flexible option for individuals looking to receive care from home or on the go. Simply use your tablet, computer, phone or other device to have a virtual visit with a hearing professional. Save on wait times that you might experience at an in-person visit, while getting access to the same great care. Meeting with a professional to learn about and manage your hearing loss is a great first step towards better hearing. And since EPIC is backed by the nation's largest hearing network, we can help you find a provider that supports virtual care in your area.
Your hearing. Your choice.
Even with virtual care, you'll still need to visit a provider for an in-person hearing test. A hearing test can provide you and your provider with key information, including the severity of your hearing loss.
If you had a hearing test in the past 6 months, then you are one step ahead. Upload your test and we will be in touch!
Upload hearing test
After you've completed your hearing test, your first virtual appointment will give you the opportunity to talk with your provider to review your test results, discuss your lifestyle and hearing needs, review your hearing aids options and get a recommendation. With so many hearing aid options that offer varying levels of technology and features, how do you know which one is right for you? Consider the factors that matter to you most like you like your budget, lifestyle and level of hearing loss. Your hearing provider will work with you to find the solution that best suits you.
Getting your hearing aids
Your hearing aid(s) will be shipped to your home within 10-14 business days of payment. A member of our virtual care team will call you to set up a virtual fitting appointment. If your hearing aid(s) arrive and you haven't heard from us, give us a call. During the appointment your provider will help guide you through putting the device on to make sure your hearing aid(s) work correctly and fit comfortably.
3 simple steps to better hearing
2. Schedule a virtual visit
to discuss your hearing test results and choose a solution that works best for your budget, lifestyle and hearing needs
Schedule now
3. Get follow-up care
and feel confident your hearing aids are working correctly and fit comfortably.
Hearing treatment perks
Say goodbye to waiting rooms
A personalized recommendation, by a licensed hearing professional
Get support when you need it, from the comfort of your home
Get started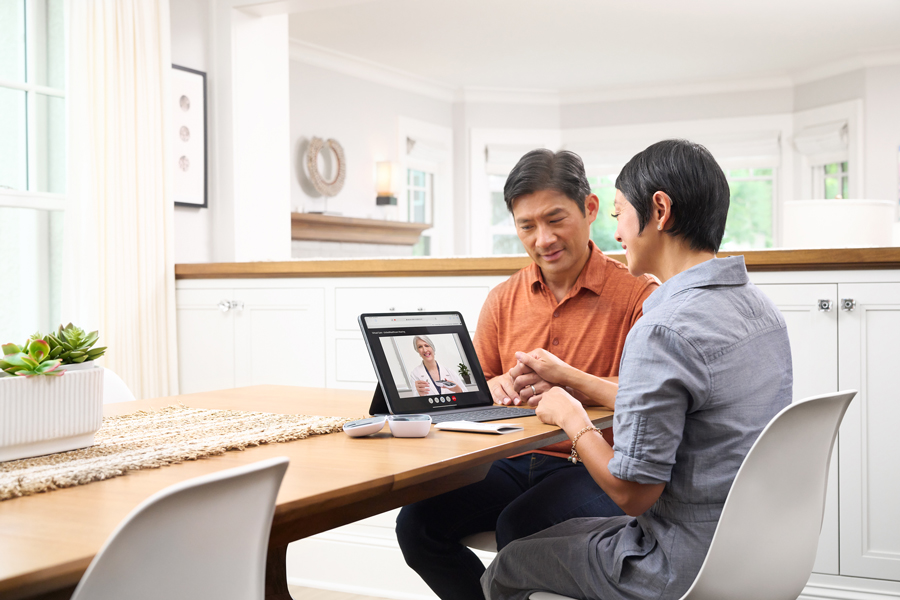 Not sure which care path is best? Try these helpful tools.
Compare care
Take an online hearing test
Need support? We hear you.
Through EPIC Hearing Healthcare, you have access to end-to-end hearing support. Stay connected and get the most out of your hearing aids with professional guidance, online tutorials, hearing health tips and more.
View resources
Call us
Our hearing professionals can help give you the support you need to navigate your hearing journey.
Monday–Friday
8 a.m. to 8 p.m. CST